Florida is a popular destination for families to live and vacation year-round. Despite the pleasant weather and sandy beaches, the Sunshine State boosts one of the highest crash rates across the nation. Because of this, it's important for parents, guardians, and caretakers to have a thorough understanding of car seat laws in Florida. In many cases, the right safety harness system for your child is a matter of life or death when a car accident takes place.
Unfortunately, the odds of experiencing a car accident with your child in tow is not uncommon.
According to the NHTSA, car crashes are the leading cause of death for children ages 1 to 13. That is why it is crucial for you to choose and use the right car seat for your child at every stage and age of life. Whether you are a resident of the area or visiting for a short stay, car seat rules in Florida apply at all times. Choosing to observe these rules is the best way to keep your tiny passengers protected from dangerous road hazards while in control of a vehicle.
Our lawyers want all families to feel safe and protected on local roads and toll highways. Below we'll explain key safety information regarding Florida car seat regulations and the affiliated penalties for not using the appropriate car seat for your child.
Car Seat Rules in Florida
Your duties as a parent are endless. However, one of the most important responsibilities you'll need to consider is the safe transportation of your child. As opposed to older children and adults who strictly require the use of an automotive seat belt, young children need an extra layer of protection. This is due to their weight and stature. Fortunately, child restraints are proven to enhance safety. Statistics show car seats and booster seats reduce serious injuries or deaths by 80% (when used correctly).
Florida Car Seat Laws Height and Weight
Car seat laws in Florida are determined by a child's height and weight. It's important for parents and guardians to pay close attention to said factors when fitting an infant, toddler, or young child into a new car seat. On average, a toddler grows about 2 to 3 inches and gains 4 to 6 pounds per year. Because the shift in height and weight occurs quite frequently, your child has the potential to outgrow a harness quicker than you may realize.
As a general rule, our lawyers recommend that parents attend a car seat check at least once a year. During Child Passenger Safety Week, several cities across Florida offer free car seat checks, where parents can find out if their child is in the right seat for his/her age. First-time parents can also ask local authorities or first responders to explain the correct installation of a specific car seat you have for your vehicle.
In Florida, the laws regarding car seats and booster seats include:
Ages 0-12 months

— Children must use a rear-facing car seat that is federally-approved for newborns and young babies. When a collision occurs, the seat moves strategically to protect the child's neck and spinal cord.

Ages 0-3 years

— A child of this age must use a rear-facing, forward facing or all-in-one convertible car seat that fits within the vehicle and can adjust as your child grows. These seats are designed to limit a child's movement during a crash.

Ages 4 to 5 years

— Young children must use a backless or high back booster seat or integrated car seat so the vehicle's lap and shoulder belt fits securely over the child's body. The transition period from a car seat to booster seat is generally determined by age, weight and height.
Florida Booster Seat Law
As noted, height and weight are the top indicators for booster seats in Florida. Yet, age plays the most vital role. In most instances, your child is ready to upgrade to a booster seat when they outgrow the weight and height limitations for a forward-facing car seat. This usually falls around 85 pounds and 35 inches. A tell-tale sign that your child is ready for the switch is if their knees do not bend naturally with the seat cushion without slouching.
Florida Car Seat Regulations
There are different types of car seats available, which include rear-facing car seats, forward facing car seats, booster seats, and the standard seat belt. Generally speaking, the age of a young passenger determines which type of car seat is best suited for your car. With that said, not every child safety restraint fits within all types of vehicles. You must buy a car seat that can be installed properly in order to comply with legal guidelines.
Main takeaways:
Under Florida law, all children under 5 years or younger must be restrained in a safety harness in the back seat of the vehicle.

A child may transition from a rear or forward facing car seat to a booster seat at 4.

As of January 1st, 2015, children ages 4 to 5 must ride in a child safety seat or booster seat.

Seat belts are not adequate for use until a child reaches 4'9" tall and age 8 to 12 years old.

Parents should keep children buckled up in the back seat until they are at least 12 or 13 years old.
According to Florida Statutes, there are some instances where car seat laws do not apply. Generally, these circumstances should always be approached with caution if young passengers are involved. The only car seat exceptions in Florida include:
Bus transportation

Motorcycles

Bicycles

Farm equipment
All motor vehicles must include a car safety harness for young passengers. If you're confused on which car seat is best option for your little one, visit the National Highway Traffic Safety Administration (NHTSA) website to utilize the Car Seat Finder tool. Once there, you can compare car seats and booster seats and browse thousands of brands and safety ratings.
Car Seat Exceptions
Florida booster seat law explains a few exceptions for young children riding without a safety harness in the car. These special circumstances usually involve medical emergencies and children with medical conditions. If your child cannot use a booster seat because of a medical reason, you must have documentation from a licensed healthcare professional. This documentation must be readily available to present to law enforcement.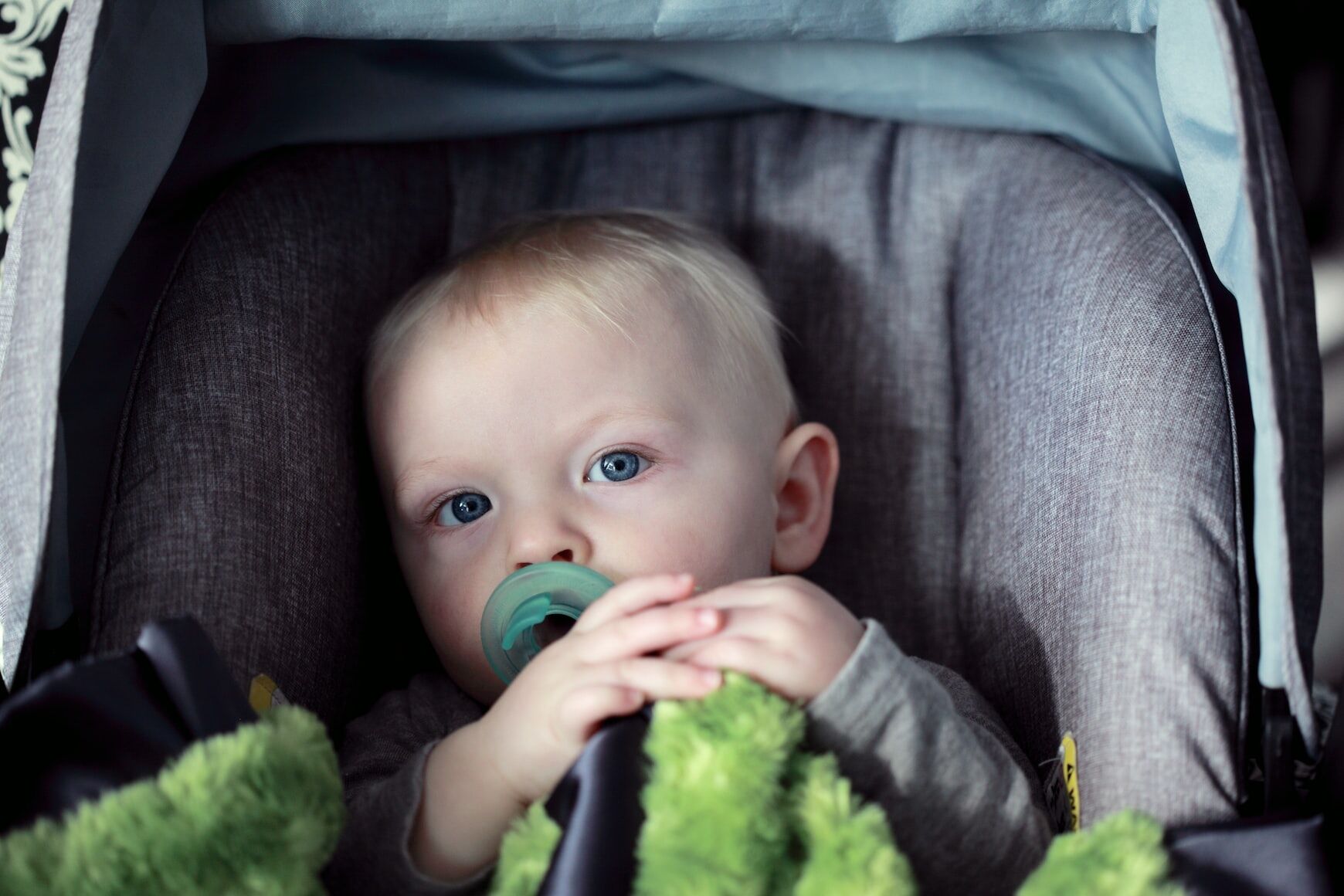 Penalties for Car Seat Infractions
If your child is not properly secured in a car seat or booster seat, you could face a 3 point infraction against your license and a $60 fine. In some cases, parents who do not follow Florida car seat regulations can waive the points and attend a driver safety course instead. This alternative is entirely situational and depends on the judge overseeing your violation.
How to handle
Don't let a car seat infraction cost you time or money. If you plan on heading out on the road with a tiny passenger, take the extra precautions. Buckle up your child in the back seat before stepping foot on the gas. It's not worth the risk of injury or death should a minor or major car accident occur. In Florida, seat belt laws are mandatory for all ages. That means, you must keep the safety of you and your loved ones in mind to avoid dangerous road hazards.
All things considered, it's the parent's job to follow car seat rules in Florida. Your child's safety should always be a top priority, especially while navigating congested roadways. Florida's higher than average accident rates make it vitally important for parents to understand the constituents of Florida traffic laws. In addition, the basis of car seat regulations. Whether you live in the area or plan on a weekend visit, you should take the time to familiarize yourself with car seat laws in Florida.
Contact Porcaro Law for legal guidance
If you or a loved one have been injured in a car accident involving a car seat, talk with an experienced personal injury lawyer today. Failure to use a child restraint is not admissible evidence, meaning the other party cannot use this mishap against you to win a case or establish negligence. Not only that, Florida's car seat laws can be complex. A knowledgeable lawyer will keep your best interests at heart throughout the process of a car accident claim.
The attorneys at Porcaro Law Group have helped numerous accident victims navigate the proceedings of a personal injury claim as well as detail the importance of child safety. If you think you have a claim, we invite you to contact our team of legal experts to discuss your case. Once you hire us, we immediately get to work to assert your rights and get the financial recovery you deserve.